Spray Tans
Sunshine Coast Instant Spray tanning
St Tropez, the iconic world leader in sunless tanning, is sought by those who want the very best in UV-Free instant spray tans, and is offered exclusively to our clients. The results of this premium sunless spray tan solution gives a rich, natural golden sunkissed glow.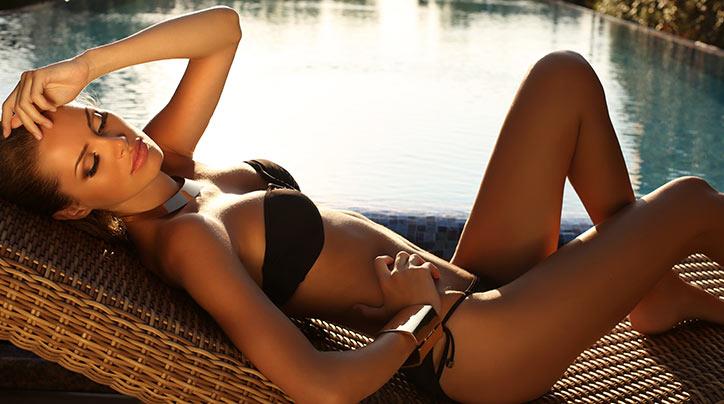 Spray Tan Cost:
$35 or ($25 for regular weekly tanners)
$90 body exfoliation and Tan
Before your tanning session, we ask our clients to please prepare their skin by exfoliating, paying particular attention to dry skin areas like, elbows, knees and ankles. A light oil free moisturiser can be applied to these areas.
Please do not wear deodorant, make up or jewellery, and if you hair is long please tie it back.
Please bring or wear something dark in colour and comfortably loose to put on after your sunless tanning session (we will provide you with disposable underwear).
Your tan has a cure time of between 1-3 hrs depending on the depth of colour you require. It is important that you do not get wet or sweat during this cure time. After your development time has elapsed you can shower the bronzer off using cool water and NO SOAP. If you prefer, you can sleep in it overnight and wash it off in the morning. Your spray tan colour will not reach it's final colour for 12-24hrs.
St Tropez tan - (Green Base)
St Tropez is a superior product rich in Aloe Vera. It soothes, hydrates and nourishes the skin without the worries of premature aging and skin cancer.
Your beautiful St Tropez spray tan will dry in 5 minutes and last from 7-10 days with regular moisturising.
Green base suitable for all skin types -
St Tropez Dark 4hr - for those who want a deeper richer Olive tan.
MoroccanTan - (Blended base)
The original Argan oil infusion spray tan for super hydration (Ash to Violet base)
Accelerated - Blended base 16% DHA (30min - 6hr cure time)
Exotic Violet base 15% DHA (for Olive tones) - (1-5hr cure time)
MINETan - 100% Natural DHA - Green/Ash base
Introducing our newest tanning product which is made here in Australia using natural ingrediants.
Leave on for 1-3 hrs depending on what level of tan depth you would prefer - (1hr light, 2hrs medium or 3 hrs dark)
This beautiful product smells amazing and fades very even and gradually over 7-10 days with no tell tale crazing of the skin. MineTan is alsoVegan & cruelty free.
MineTan Dark Ash - Super Dark - A beautiful deep brazilian coloured tan with an Ash/choc base.
MineTan Violet Base - Rich Super dark base for Olive skins.
MineTan Coconut - made with coconut water for hydrating the skin.
MineTan Coffee/Coconut - (New) contains coffee extract and hydrating coconut.
MineTan Caramel - (New) - for a sun kissed natual tan.
MineTan Original - green based for an Olive tan.
MineTan Absolute X40 - (New) Ultra dark