Spray Tans
Sunshine Coast Instant Spray Tanning in Coolum
We use one of worlds leading brands in sunless tanning at Asante Spa retreat on the Sunshine Coast - Naked Tan is sought by those who want the very best in UV-Free instant spray tans. It is made from Natural Organic ingredients, Vegan-friendly and cruelty free. The results of these premium sunless spray tanning solutions give a rich, natural golden sunkissed glow, bases of green, ash and violet, ensuring there are no nasty orange overtones.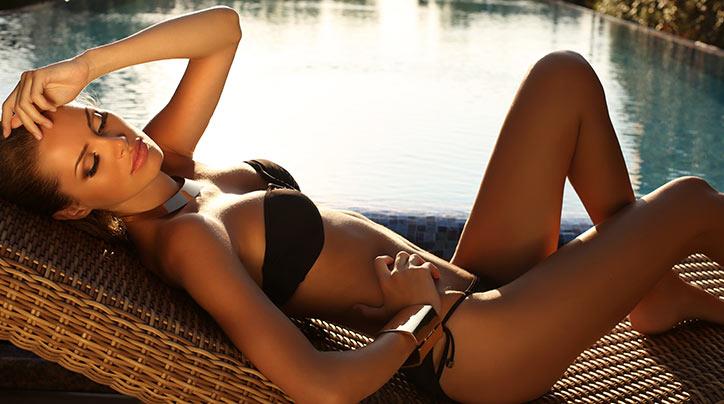 Spray Tan Cost:
$45 (Price drops to $35 for regular weekly tanners)
$105 body exfoliation and Tan
Before your Coolum tanning session, we ask our clients to please prepare their skin by exfoliating, paying particular attention to dry skin areas like, elbows, knees and ankles. A light oil free moisturiser can be applied to these areas.
Please DO NOT wear deodorant, make up or jewellery, and if you hair is long please tie it up and back off your face.
Please bring or wear something dark in colour and comfortably loose to put on after your sunless tanning session (we will provide you with disposable underwear).
Your spray tan has a processing time of between 1-3 hrs depending on the depth of colour you want to achieve, do not get your skin wet or sweat during this processing time.
Never sleep in your tan - It is imprtant to not exceed the recommended processing time as this can cause the solution to over-develop, leaving your skin with a orangey tinge - not what you want!
After your development time has elapsed you can shower the bronzer off using tepid water and NO SOAP. Dont panic if you see your tan wash off as this is normal as it is just the bronzer, your colour is still developing on your skin and will reach it's final colour in 12-24hrs.
NAKED Tan - (The Original 2hr Tan)
Naked tan is an Australia vegan-friendly sunless tanning company and was the first to devolop and launch the 2hr wash and wear tan. All solutions are made with a combination of natural tanning ingredients and contain no nanoparticles, no parabens, no SLS Sulphates and no alcohol.
Naked "Ultra Dark" 16% DHA - Violet base for up to 6 shades darker
Naked "Chocolate" 15% DHA - Ash base for 5 shades darker tan
Naked "Luxe Rapid" 14% DHA - 20min Rapid tan
Naked "Exotic" 12% DHA - Green base for 4 shades darker tan
Naked "Tanned" 10% DHA - for Pale & light toned skin for a 3 shades darker tan.
Naked "Natural" 8% DHA - for Brides and fair toned skins for a 2 shades darker tan.
Cost $45 (Discount for regular tanners $35)
Body Exfoliation and Spray tan - Cost $105