Hair Stroke Feather Touch Eyebrow Tattoo
Asante Day Spa Sunshine Coast clients can now benefit from stunning eyebrows 24/7! If your brows have been overplucked, have gaps you'd like to fix-up, or you simply desire a whole new shape, then semi-permanent Cosmetic hair stroke tattoo eyebrows are the answer.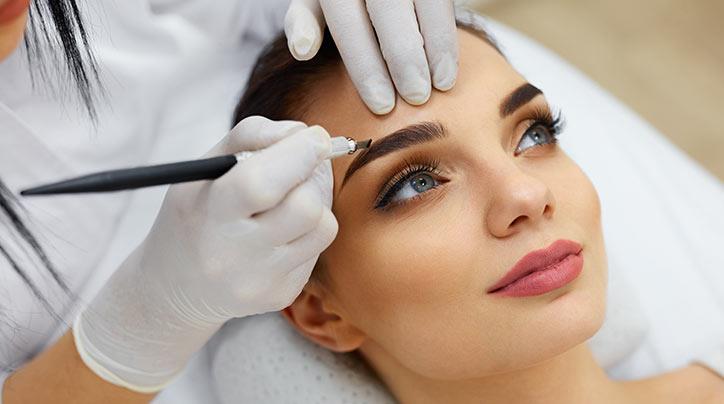 Feather Touch Tattoo Eyebrows - Micro Pigmentation - $585

feather touch tattoo refresh touch-up (single visit) - $260

Eyebrow tattoo consultation - $70
FEATHER TOUCH BROW STROKES (Embroidery Technique)
A semi-permanent form of eyebrow feathering. A very fine hair stroke is etched into the basal membrane which divides the epidermis from the dermal layer of the skin, using either a machine with a small disposable micro needle or a disposable micro blade hand tool. Once the procedure is complete, the appearance is completely beautiful and natural looking, blending seamlessly with or without hair along the brow bone.
Feather Stroke Re-Fresh EYEBROWS
To keep your tattoo brows looking the best they possibly can, I recommend a refresh touch up every 12-18months. This is generally a single visit, where we go over any faded strokes to redefine.
EyebrowTattoo consultation
This is a very important appointment before you book your procedure. I will discuss design, shape, colour and I will explain the procedure. We will also organise your topical anesthetic. The consultaion fee will be taken off the cost of your procedure.
To get the best results it is important to have your perfection visit 4-6 weeks after the initial procedure. This visit is complimentary and this is when we can make any slight changes to shape and check on colour. Outside this time frame there will be a charge for any touch ups.
WHAT TO EXPECT
Your brow is measured and surgical pen dots are drawn to ensure symmetry, then a hypo-allergenic iron oxide pigment colour is selected that best suits your skin tone. Very delicate hair like strokes are created by using either a tattoo machine with a very fine needle or a disposable microblade hand tool.
The pigment will generally last between 12-18 months. Results may vary depending on the client's exposure to sun and their resistance to pigment. A topical anaesthetic can be used to pre-numb the area before and applied during the procedure to minimise any discomfort. This will need to be purchased prior to your scheduled appointment. Please call us on (07) 5446 5229 to discuss further.
Bepanthen ointment is recommended for daily use for up to 5 days after the procedure.
Frequently Asked Questions:
Why opt for feather tattoo eyebrows?
Also called cosmetic eyebrow tattooing, this procedure will save you time and frustration. Your eyebrows will look great 24 hours a day, freeing you from the hassle of drawing on your brows. You can swim, sleep, perspire, have a sauna, play sport, wash your hair and your eyebrows will still look great.
Who can benefit from such a treatment?
Eyebrow feathering can benefit people who:
Have over-plucked their eyebrow hair
Have gaps or scars where the hair has not grown back
Are suffering from Alopecia (hair loss), weak or light hair
Want a particular shape for their eyebrows
Is it safe?
Completely safe. We use disposable needles and sterilise equipment as required. Performed by our resident Cosmetic Tattoo & HD Brow Expert, Elizabeth DeVaux, you're in very safe (and talented) hands.
What colour pigments are used?
We use quality pigment lotions based in iron oxide, a safe non-reactive substance. The pigment lotions are specifically manufactured for implantation into human skin. Pigment lotions are inorganic (meaning they are semi-permanent). A powder is suspended into a solution of distilled water and glycerine which results in a smooth creamy liquid.
Will it look natural?
Yes, cosmetic eyebrow tattoo embroidery looks as if you applied a pencil, a little softer and more muted. Immediately after the feather tattoo eyebrows treatment the colour will appear stronger and darker for the first 7-10 days. After that, you can lose approximately 10 - 20% of complete colour during the healing process within 7-14 days.
Is there any down time?
The majority of people don't need to take time off work. There is usually no swelling with the eyebrow treatments but this can vary from person to person depending on levels of sensitivity.
How do I care for my feather tattoo eyebrows?
Avoid getting the area wet for the first 3 days while your colour is bonding.
Keep the area clean and moist & apply the aftercare cream that we recommend.
Avoid any exfoliants or other creams during the healing process (7-14 days).
Avoid steam rooms and saunas during the healing process (7 days).
Avoid touching or picking the area until after the healing process (7-10 days).

What is involved?
A full consultation will take place with our Cosmetic Tattoo & HD Eyebrows Artist to determine the brow style and colour that best suits your face. A pencilled outline will be drawn onto your eyebrows to a shape that is to your liking and this is followed by a brow tidy up.
A topical anaesthetic numbing cream can be used throughout the microblading procedure to minimise any discomfort. Under the new Qld Health Regulations, all anaesthetics are required to be prescribed personally to clients from a compounding pharmacy. The topical anaesthetic will need to be purchased ahead of time so that it can be applied prior to your scheduled tattoo procedure appointment. We are happy to answer any questions and help you on this matter.
On completion of your tattoo procedure a cold compress will be applied to the area followed by a smear of the aftercare cream to help with your healing process. There is no after pain.
A 4-6 week follow up appointment will be made in-case we need to make any adjustments to the colour or shape.
Cost of Cosmetic Micro-Pigmentation Procedures
MICROBLADING EYEBROW FEATHERING TATTOO EMBROIDERY - $565
EYELINER TOP (Lash enhancment) - $350
EYELINER BOTTOM (Lash enhancement) - $275
EYELINER TOP & BOTTOM - $500
(Above prices include your complimentary 4-6 week perfection visit)
RE-TOUCH EYEBROWS - 3 -12 months (one visit) - $250
RE-TOUCH EYEBROWS - 12-18 months (one visit) - $350
Call Asante Day Spa Coolum to book your Cosmetic Feather Touch Eyebrow Tattoo appointment or call us for your precision HD Eyebrow Appointment (07) 5446 5229